Meet the owners:
Vong and Aroon, from Thai Fresh
There's a buzz where SE 82nd Avenue and Division Street intersect: there's new construction; PCC Southeast brings students from all walks of life to the district; and Jade/Asian Pacific American Network of Oregon (APANO) promotes the area's rich cultural makeup. As you walk around the neighborhood, restaurants show off the district's place as a dining destination. One of the restaurants, Thai Fresh, sits prominently among a diverse and eclectic mix of established and new eateries. Let's meet the duo who have helped make Thai Fresh a mainstay in the neighborhood.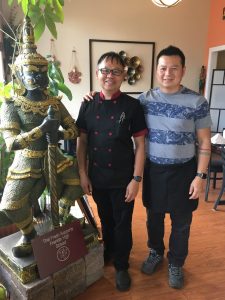 Tell us about yourself. What is your business and what makes it unique? "We are Vong and Aroon. We opened Thai Fresh almost 10 years ago. We are passionate and detail oriented people. We make everything from scratch and can cater to almost all dietary needs. Not only do we love running a restaurant, but we love to give back to the community. For example, every year we do a fundraiser for nearby Bridger Elementary School."
What do you love about working in the 82nd Avenue Business District? Why did you join the Business Association? "We love the people of 82nd: the people, the culture, the diversity. We are passionate about our business, want to see our neighbors prosper, and want to be part of the neighborhood's change and improvement."
When you're not working, what's your favorite place to hang out in the Business District? "We love some of the restaurants along Division, even further west like Petite Provence. On 82nd Avenue, we like Pho Kim (Vong) and Steinhaus (Aroon)."
If 82nd Avenue of Roses had its own soundtrack, what would be the theme song? "Thriller, by Michael Jackson."
If there was something about 82nd that people should know, what would it be? "It's not as bad as people think. It's unique, diverse and way more friendly than people assume."
* Many thanks to Vong and Aroon for sharing with us. Not only do they make amazing food, but they care deeply about the neighborhood and are working hard to make the District a better place to eat, shop and play. You can find Thai Fresh at 8409 SE Division Street.